Teachers, administrators, or coordinators — it's easy to make and upload your own video!
Get ahold of an easy-to-use video player (like the Flip Video pictured here).
Coordinate the script writing and filming as part of a class or as an extracurricular activity.
Make sure that anyone who is in your video uses their first names only. Any videos with first and last names won't be shown on the Code of HONOR website.
Upload your video.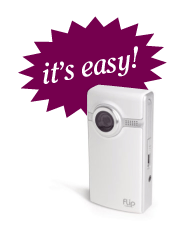 videos